Welcome to Eskdale Treehouse
We have created a place that children can call their own, a place that provides high quality care, where children feel secure, nurtured and loved, and families feel welcome.
Ours is a place where your child will be inspired to explore, to think, to wonder, to investigate, to make discoveries, to challenge themselves and, most importantly of all, to enjoy learning.
Our Centre
Learn more about Eskdale Treehouse!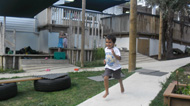 Our Programme
Find out more about our programme!
A Treehouse;


"To be in a tree house is to be inside and yet outside, to be free and yet protected, to be held up in the air, yet rooted, held. It is a distant retreat, yet conveniently near. It is being adventurous and yet home-loving, a wayfarer and nest builder, a pirate and a lighthouse keeper. Tree houses enclose all the spirit that needs enclosure and liberate all the spirit that needs to see from horizon to horizon and guess what lies beyond."
From Treehouses: an Illustrated Essay on the Aesthetic and Practical Aspects of Arboreal Architecture by the Staff of the Green Tiger Press, 1975.